Developing Student Strengths and Talents: Professional Development by GERI
Catalog /
Purdue University's Gifted Education Resource Institute Presents: Developing Student Strengths and Talents
On-line Professional Learning Units designed to help educators develop their studentsí strengths and talents. Using strategies, programs, and understandings from the field of gifted, creative, and talented education can be a powerful means of helping more children and youth achieve at higher levels. Understanding learning differences, talent development, strength-based, and student-focused education can empower educators to effectively differentiate curriculum and instruction, while they also attend to the affective needs of their students. Welcome to our interactive, on-line learning units!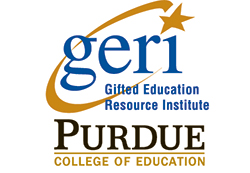 Designed to help educators discover, nurture, and develop talents among their students, each Unit requires about 10 hours to complete, which includes engaging on-line as well as applying content in the classroom or clinic. Upon successful completion of each unit a professional development certificate or badge documenting the experience will be provided for a total of up to 90 hours. Entire school districts, individual school faculty, small groups of interested educators, or individuals subscribe for a two-year term, which allows ample time to fully engage in each of the nine units. Pricing is based on the number of staff members in the group subscribing. Upon subscription, log-in directions will be provided. Program Coordinators: Marcia Gentry, Ph.D., with specialty in gifted, creative, and talented education and Jennifer Richardson, Ph.D., with specialty in educational technologies and instructional design.
Unit 1: Nature and Needs of Gifted, Creative, and Talented Children and Youth
Explore myths and realities of gifted, creative, and talented children through engaging in simulations, readings and hot topics, and by examining historical and modern perspectives from leading experts in the field.
Unit 2: Developing Talents in Underserved Populations
Examine possible reasons for underrepresentation, then explore literature, video, and simulations to increase your understanding of students from culturally, linguistically, and economically diverse populations. Learn how to work effectively with these students and in doing so help them reach their potentials and increase their representation in gifted programs.
Unit 3: Curriculum Compacting
Learn to compact curriculum for students who already know the content or who can learn it more rapidly than their peers. Pre assess, guarantee proficiency of the standards and curriculum, and create time for meaningful, enriched, advanced learning that will engage students in their areas of strength and interest. (Courtesy of UCONN)
Unit 4: Schoolwide Enrichment ModelóReading
Learn how Dr. Sally Reis extended the Schoolwide Enrichment Model and applied it to reading to challenge gifted students and improve reading among all students in this student-centered, interest-driven approach to engaging students in reading. Test SEM-R with your own students. (Courtesy of UCONN)
Unit 5: Inquiry and Reflective Practice
Consider methods of using inquiry in your everyday teaching and couple this with reflective practice to reach your students using the tools of inquiry. Integrate different forms of inquiry across the content areas to ignite curiosity among your students and to give content a meaningful application.
Unit 6: Differentiation in Language Arts and Mathematics
Explore ways of differentiating curriculum and instruction in language arts and mathematics to help students for whom the curriculum is either too easy or too hard. Implement strategies that will help improve student achievement as well as classroom learning environments.
Unit 7: Student Focused Differentiation
Review a menu of 25 easily implemented differentiation strategies that are student-centered and that require less (not more) work from teachers. Try five of these strategies with your students and reflect on their effectiveness in your classroom context. Differentiation is not just for students anymore, teachers need freedom to teach to their strengths!
Unit 8: Total School Cluster Grouping (TSCG)
Join Dr. Marcia Gentry, and from soup to nuts, learn how and why to implement TSCG, step by step. Consider how this model, when implemented with fidelity, can improve student achievement, increase representation as gifted students from underserved populations, and enhance teacher practices. Explore resources designed to help you successfully develop TSCG in your school.
Unit 9: Making Sense of Gifted Kids, and Helping Them Make Sense of Themselves
Join Dr. Jean Peterson in exploring the social and emotional development of gifted youth from a counselor's perspective. Often neglected by educators and researchers, this area has impact on school success and on present and future well-being. The module, offering insights about the effect of giftedness on how developmental challenges are experienced, about developmental aspects of high achievement and underachievement, and about vulnerability and resilience, is appropriate for anyone interested in a deeper understanding of the internal world of gifted kids. For more information on registration including using a purchase order, please e-mail
Melody Carducci
or call her at 765-496-3338. For program content information, please e-mail
Professor Marcia Gentry
or call 765-494-7243.
Registration Option(s)
Developing Student Strengths and Talents: Professional Development by GERI / Package Includes Nine Total Online Units